So up until a few months ago, you couldn't even pay me enough to get in the kitchen and cook something! I grew up with a Mum and a Sister who were total chef's in the kitchen, and honestly, I never had a need to learn how. Cooking always scared me, and it always seemed to go wrong! In the past I've managed to burn 2 minute noodles, turn a pot black from simply steaming a carrot, and one time my friends and I tried baking a cake after midnight, and it did NOT go well. However, that was mostly due to the fact that one of my friends accidentally switched the page over to a different recipe half way through without realising! It ended up as rock hard inedible 'Chinese fighting muffins'.
Ever since I've made the decision to be healthier, I have found a new found LOVE for getting in the kitchen and making something! All of a sudden it's actually become creative and exciting, rather than scary. I find myself browsing recipes in my spare time, and being inspired. I sit down and figure out how to recreate my favourite treats and desserts in a healthier way with good ingredients!
I stumbled across a Raw Blueberry Cheesecake recipe, and was inspired to make something similar with ingredients that I had. To my surprise, it turned out delicious and it tastes legit!!
I had to share it with you.
You'll need a high bleed blender or food processor. I used my Optimum Blender.
1 1/2 cups of pitted Dates
2 cups of raw Cashews (soaked overnight)
1/2 a cup of Coconut Milk
2 Tablespoons of Rice Malt Syrup
1 Teaspoon of Rice Malt Syrup
- You can use Honey instead of Rice Malt Syrup if you like, totally healthy, it just won't be considered 'raw'.
- The container I used to make the cheesecake in was roughly 22cm wide and 6cm deep.
These fun recipe is all about layers! And we're going to work our way up from the bottom. So we're going to make the base first. Blend your Dates and Almonds together to form a sticky paste. Then line a freezer safe container with baking paper, and spread the mixture evenly across it, right to the edges.
Pop it in the freezer while you make the (delicious) filling!
Clean out your blender. Then drain the soaked Cashews and blend them up with the Coconut Milk, Rice Malt Syrup and Lemon Juice. You wouldn't think those ingredients tastes so good together, but YUM!
Blend together until you have a smooth and creamy consistency. Then pour the cashew cream on top of the base. Spread it out evenly, and set it aside.
For the last layer, we're going to whip up a blueberry sauce to pour over the top. So blend your Blueberries and Rice Malt Syrup together, and pour that out evenly over the cashew cream, right to the edges. I let it drizzle down the sides a little because it looks extra pretty that way!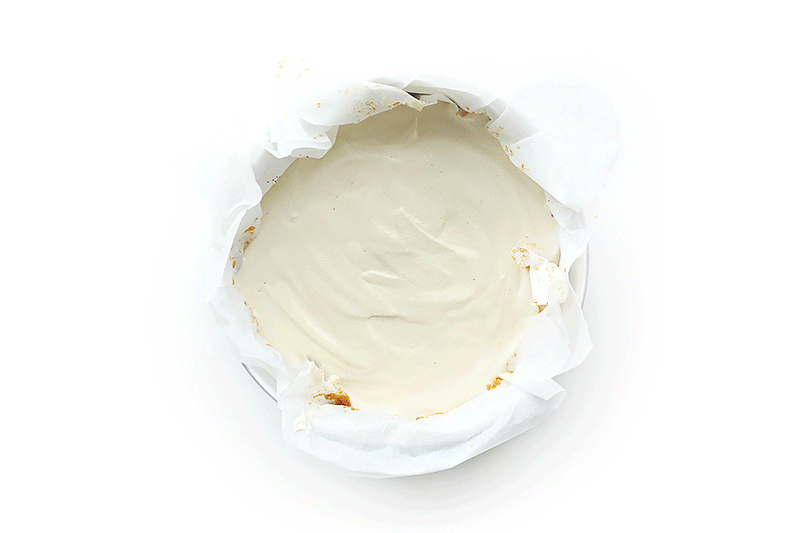 And that's it! Pop it into the freezer for a few hours to set nicely. Before you cut it up to serve, let it sit at room temperature for 10-15 minutes to soften a little.
Delicious AND no guilt. Does life get better?!