Introducing Anglicare WA!
Restyle is JUST around the corner!! I can't believe it's only two weeks until it all starts!! Have you seen the prompt list? If not, have a peek below and get excited!! Get Op Shopping quick and pick out some great finds so you can join us this year!! Upload your photos and tag #Restyle2014 so we can see.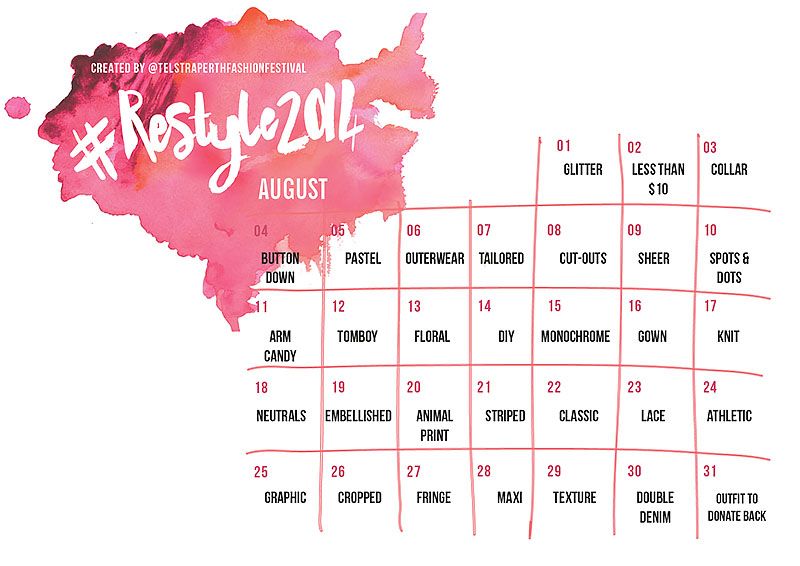 I wanted to take a moment to properly introduce you to Anglicare WA. I am so so happy that I got paired with them for this photo-a-day-challenge!
To be honest, I didn't really know much about the organisation before this whole challenge began. However, after my first meeting with Lorraine and Anna from Anglicare WA, I
was completely blown away! Anglicare WA is a community service organisation full of people that devote their lives to helping people, families, and their communities to enhance their abilities to cope with the challenges of life and relationships. Listening to them talk about what they believe in and what they are hoping for the future, just filled my heart with joy. What incredible people, with an incredible mission.
Money raised at Anglicare WA Op Shops supports the community. Their philosophy is to support people through each stage of life's journey. Anglicare WA's 60+ services, which are all equally important, are available to all members of the community and help people with whichever situation they're facing. They can be broken into six broad categories:
To read more about their incredible services, which I think are all essential, please visit their

website

. Anglicare WA is really putting their hearts into making peoples lives better, and that is something I am so proud to be a part of, even if just in a small way. Knowing that my money is going to these great causes, it's been such a joy shopping at each Anglicare WA Op Shop! I've loved all six stores in their own way. They all have a different feel to them, and there are so many hidden treasures to be found! My sister has seen some of the clothes I've bought home, and she was absolutely shocked at the gems I found!!
I hope I've opened your eyes a little to the behind the scenes of Anglicare WA. They really do treasure your support, as it further allows them to support the Western Australian community through service delivery. So get down to one of their

stores

, find some gorgeous pieces, and join in with #Restyle2014!! Not only an incredible cause, but there is some incredible fun to be had!!